McDonald's (obviously among the
best fast food restaurants
) has a secret menu. I SAID--McDONALD'S HAS A SECRET MENU!!! Shout it from the rooftops. No longer are we saddled with a meager 106 menu options (seriously--
count them up
).
This could be good.
5: McKinley Mac
- This is a Big Mac, but instead of regular burgers, quarter-pounders fill the bun. Apparently, it's on the menu in Alaska, but legend has it that it can be ordered at any location (and why not--it isn't like they don't have the ingredients). Photo isn't mine--check out
Ranker's
list on the same topic.
This will kill you.
4: Monster Mac
- An eight-patty Big Mac. This sandwich is the stuff of legend (in that it may not really exist, and I'd bet you'd have a hard time finding a McDonald's to make one). This is the only photo I could find, and it's all over the place (I got it from
KevinMD
). It further supports my myth hypothesis.
3: Cheese Delight
- No photos anywhere! But this is the only one on the list that I've ever ordered. A dozen years ago, a friend told me about the secret menu and hooked me on the idea with the Cheese Delight--hamburger buns turned upside-down, pressed flat, and grilled with two slices of cheese in between. And, no--the check-out person had no idea what I was talking about, called the manager over, the manager was clueless, and I left with a Big Mac.
The Arabic translates to: "Tastes like chicken!"
2: Big MacChicken
- Judging by the Arabic writing, this may be available in Arab-speaking countries. All I know is that I've never seen it on a U.S. menu. It's simply a Big Mac with chicken instead of beef patties. A "healthy" alternative to the Big Mac? Yeah, not so much; but still...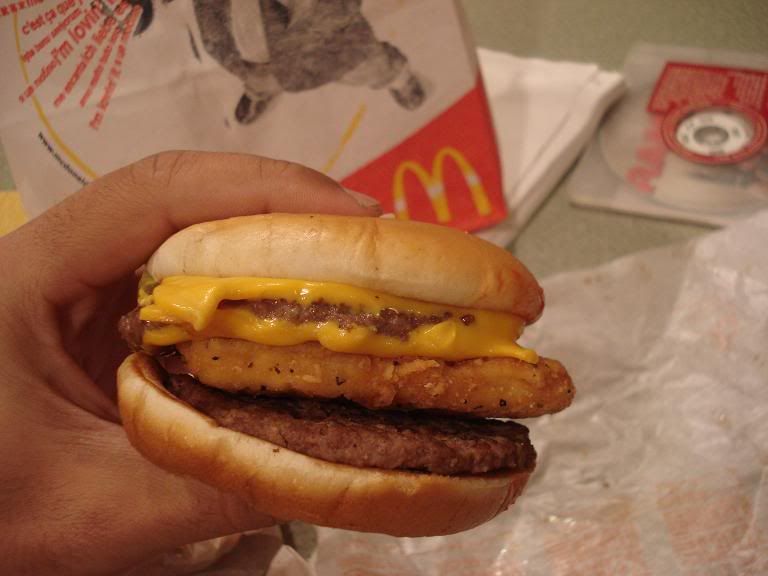 At a strategy meeting that never happened: "The double cheeseburger is great, but we get a lot of complaints, mainly that the beef isn't chicken! So here's the plan..."
1: McGangBang
- I've heard of two variants: one, a double cheeseburger with a chicken patty slipped between the beef patties; the other, a double cheeseburger with a whole chicken sandwich slipped between the beef patties. I'd like to think it's the former (since the latter is something any schmuck can make on his own). Either way, it gets the number 1 spot because it might be brilliant. Go ahead, try ordering one. With your kids. Then explain. Then tell us how it went. (There are tons of pics of this one; I pulled mine from
here
.)
I would love to hear from anybody with experience in this area--did you work at a McDonald's and know of the secret menu? Did you ever order from the secret menu? Are there other secret menu items that should bump one of these from the list? Please comment below, and don't forget to "like" our
new Facebook page
and "share" the hell out of this post!