Steampunk is a sub-genre of sci-fi/fantasy that borrows heavily on Victorian-age themes and imagines an alternate reality where steam power became dominant. Enthusiasts have--as enthusiasts do in every genre--taken things a step further, creating steampunk-styled clothing, furniture, vehicles, equipment, and technology. Below is a sampling--the best steampunk-themed computers. Enjoy!
5: Decent job here. Wood paneled, older looking keyboard--but could easily be from the late-70s/early-80s.


4: Pretty well done.
I love all the accoutrements--the brass lamp, the fob-watch, whatever the hell the thing to the left is. Plus the keyboard is beautiful.
3: How sexy is this?
The lampshades add a nice touch to the amazing wooden cabinet. The clock on the top goes well, even if the wood is a it off. Best feature is easily the typewriter keyboard.
2: The perfect steampunk laptop. They spared no detail--leather wrist padding, wood casing with brass trim, brass (looking) keyboard and touchpad, and (best), the clawfoot stands. This is a work of art.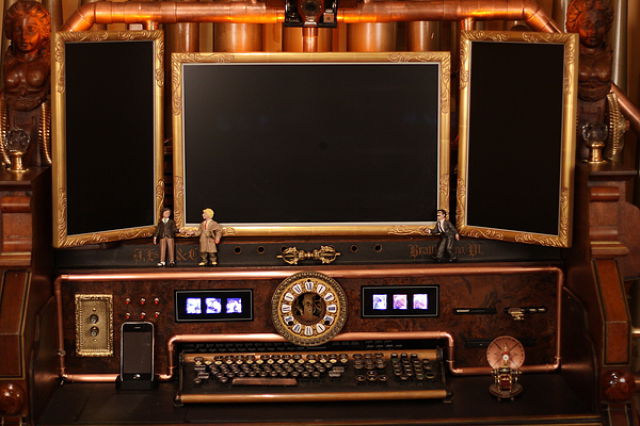 1: The total package. This looks (to me) most like a modern computer in some alternate steampunk timeline. Three monitors, lots of wood and brass, classic typewriter keyboard, and whatever that dial thing in the middle is all make it look like some bizarro-world IT guy's desk. What sells it are the little action figures and the phone--it's not just gorgeous, it's functional!
So, anyone out there into steampunk? What do you think of these computers--did I rank them right? Are there any amazing ones I missed? Let me know if the
comments
below, and please
like
us on Facebook!
(It seems like a lot of people get directed here from
steampunk.com
, so I figure I should link back to them--they run a great site. And if you liked this post, you may dig some of these: general
sci-fi stuff
, some really
cool fictional cars
, and check out #2 on
this one
. Thanks for the visit!)